Why do you need to customise the view of contacts list?
Some organisations maybe need to view additional contact information like Secondary Mobile and Department. Others may like to store EmailAddress or information on Notes.
There are 2 ways to customise and show relevant columns of fields in your contact list.
If you are an admin,

You should be able to see Admin Menu on the bottom left of the page.
Click on Admin then follow the steps here.

If you are not an admin

You cannot see Menu on the bottom left of the page.
---
1. As an Admin
Customise Contacts View is a view that stores the customised layout of your contacts under "My Contacts" and "Public Contacts".
Click on Admin > Customise Contacts View
Click on the pen icon to edit the visibility of each row.



Note: The 2 mandatory fields Contact Name and Primary Mobile (are excluded in the list above).
Example you only need to view 4 fields (Contact Name, Primary Mobile, Department and Company) in your Public Contacts list:
Click on the edit icon on the above screenshot
In the pop up window, select if you want the column to visible then click on Update.
Your Public Contacts & My Contacts display the newly selected columns like the example below:
---
2. As an non-admin
RapidSMS Users can have their own customised view by using the Customize grid checkbox at the bottom of the contacts list.
Click on "My Contacts" or "Public Contacts" on the bottom left menu.
Click on the Customise Grid option found below the contact list table.
Note: Once the columns of information is set by the RapidSMS Admin, general RapidSMS users can only decide how they like to scroll and view the contact information and the filter function.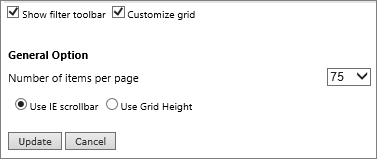 You can customize the following:
a. Show filter toolbar
b. Number of contact item per page
c. Display using IE ScrollBar or a controlled Grid Height
Tips: For those who are managing large lists of contacts, usually the choice of selection would be Use IE scrollbar & 500 items per page to reduce navigating on the pages.